Shop Tools & Equipment
For the few years that I had my electric car shop within the old United Shoe Machinery Co. facility in Beverly, Mass. ("the Shoe"), I found myself spending more time than I probably should have scrounging around unused parts of the million+ square feet of buildings looking for old shop tools, equipment and fixtures to restore and put into use. I ended up with all manner of workbenches, lighting fixtures, bench vises and hand tools in my shop. When the facility was sold to Cummings Properties in the late 1990's and we were all sent packing, all that stuff ended up in a storage locker.
From time to time I visit the storage unit to retrieve something I need for a project here at home, but most of the time the stuff just sits and I tend to forget about all the treasures I have stashed away in there. I have a few of the goodies in the garden shed that I make use of when working on hand plane restoration or other automotive work (a couple lights, one of the smaller workbenches, etc.), but I can't do much with the bulk of the stuff until the garage is built. As I've been doing a little more work on our cars this Fall (2012), I found myself visiting the storage unit more and more to grab some tool I needed. After some recent digging around in there, I decided to start showing off some of the nifty stuff I've got so other old tool junkies out there can enjoy it as much as I do.
So far this page contains a bunch of stuff about a couple old bench vises, as well as some information about a spray hood unit and blower motor that my brother wanted some details about for possible use in his motorcycle shop.
---
Bench Vises
So there I was, banging away on the alternator adjustment bracket from the Vanagon, when my vise snapped off its swivel base. I think this vise was my fathers from his old workbench when I was a kid, but I've never really paid it any attention and pretty much just hammered away on it. After giving it a closer look when it broke, it appears to be a Columbian C43, although I think it probably came from Sears as a Craftsman unit sometime in the 1970s. I removed the broken swivel base from the workbench and ran a lag bolt through the old adjuster hole into the bench to finish the job at hand, then took a ride over to the storage unit to dig around and see what I could come up with for a replacement vise.
The Chas. Parker Co. № 1073½ "Eclipse" Machinist's Vise
The first thing I found was this goofy looking vise with a long quick-release handle thing sticking off the front of it. I remember when I found this vise originally back in "the Shoe" and it was rusted to the point where nothing turned. Since I had the electrolytic rust removal tank up and running in the shed, I figured I'd toss this thing for a few days and see what came out. While it sat in the tank for a week, I started some tool research on the web to see what the story was with The Chas. Parker Co. cast in the side of the vise. I was familiar with Wilton (there's a 4 or 5 inch "bullet" machinist's vise somewhere in that storage unit too) and of course the Emmert patternmaker's vise that I'd love to get my hands on some day. I'd never heard of Parker though.
It didn't take long to find The Garage Journal
with a very active section on tools new and old, as well as a huge thread in the discussion forum specifically about vises
. It became very clear, very quickly, that I had stumbled onto something quite unique…
While I've spent a good deal of time learning about and collecting old Stanley tools, reading The Garage Journal has opened up a whole new subject of old tool stuff I can now obsess about, starting with the seemingly simple bench vise. I might be new to the field, but it seems clear to me that The Chas. Parker Co. made the best vises on the planet from the late 1800s until 1957, when the Union Mfg. Co. bought out the company. They offered a huge selection of vises with everything from incredibly heavy, non-swivel "Superior" Machinist's vises to what I consider a more "normal" bench vise with a swivel base and anvil back that they referred to as the "Service Station and Garage" vise. After looking over every old Parker vise ad and catalog I could get a glimpse at, no where could I find a reference to the 1073½, or anything that even remotely resembled the quick release thing I had sitting out in the rust removal tank. I was able to determine that this vise, like all Parker 97x series vises, was made sometime between 1930 based on the patent date on the casting (which refers to the "Clamping Element for Vises" US patent #1778576
for the swivel base clamp bolt), and 1957, when Union Mfg. took over production and changed the logo design on the side (although they kept the Parker name in the new logo).
After seeing how gorgeous some of these old vises looked while perusing the vises at The Garage Journal , I knew I was going to have to do a full blown restoration on this thing, and not just slather a little grey paint on it and call it good. The vise came out of the tank and everything was moving freely, so I set about dis-assembly and paint prep. I found the swivel base section had the number 973½ cast into it, and there was also evidence of that model number having been originally cast into the side of the static jaw unit before it had been ground off and replaced with a brass tag with the number 1073½ stamped on it. Evidently this thing began life as a Parker 973½ "Eclipse" Machinist's vise, with 3½ wide jaws and a weight of just over 47 lbs. (a little heavier than a 973½ due to the quick-release handle stuff). It was then either modified by Parker and sold to USM Co. as the 1073½, or modified by the folks at USM Co. (they had their own foundry and the place was a huge machine shop, after all) for their specific in-house needs and then re-tagged with the 1073½ model number for their own records.
How it came to be may forever remain a mystery, but it appears to be either unique or extremely rare. It really doesn't matter - I needed to get a working vise back on the bench and this was going to be the one. I hit all the big pieces with a wire brush in the 4-inch angle grinder, and the smaller stuff was cleaned up with the wire wheel in the bench grinder. I then masked off some bits and painted the jaws and base with two coats of Rust-oleum® #7250 Black Night Metallic enamel, and used their #7770 Gloss Black enamel on the handle, handle retainer, handle stop, and swivel wrench. After everything dried over night, I grabbed a little brush and did all the lettering on the sides with a few coats of White enamel, then gave it all two coats of #7701 Crystal Clear enamel as the final finish. The next day I removed all the tape and polished the bare metal parts to a nice lustre, then gave all the bare metal parts, including the parts inside the swivel base, a few coats of Renaissance Wax
to prevent corrosion. The main screw and dynamic jaw slides received a liberal coat of Permatex® anti-seize lube, while the working parts of the quick-release cam and handle got a dab of Valvoline® Multi-Purpose grease.
One thing I'd noticed while looking at information for other Parkers is that the swivel bolt wrench was missing when I brought the vise home. After seeing what it was supposed to look like, it seemed awfully familiar to me... while waiting for paint to dry I took another trip to the storage locker and after digging through a couple boxes, there it was. The Parker No. 2 wrench, along with an unused set of 3½ inch replacement jaws. There was even a pair of bronze jaw protectors with USMC stamped on them in the same box! All that's left to do now is bolt this beauty to the bench.
The Chas. Parker Co. № 40 "Coachmaker's" Vise
Not long after finishing the 1073½, I started looking for another old Parker to fiddle with. Since there seems to be no shortage of interest in vintage tools, and Parker and Wilton vises seem very popular, finding something for less than a few hundred dollars was going to be a challenge (and even at a few hundred dollars, these old Parkers are certainly worth that, compared to most new bench vises available these days). Still, I have no garage yet and I know I have more vises sitting in storage, so I'm not going crazy for these things... just keeping an eye on E-Bay to see if anything of interest shows up. It didn't take long for something to catch my eye...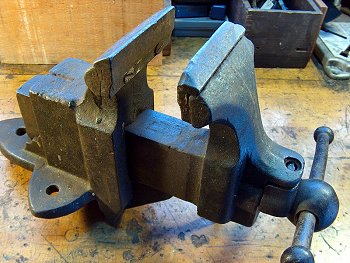 Of course what I found is completely unidentified. No maker's marks of any kind anywhere on the casting that I can see. After lots of searching through old Parker ads, the nearest thing I can find is the No. 40 "Coachmaker's" vise, shown in the ad here. From all ads I searched, Parker doesn't appear to have started casting their name in the side of the vise until after the turn of the 20th century, so this could indeed be the No. 40. Additionally, the measurements are correct for jaw width and opening distance. Also, there's a little "Ogee" profile to the cast support bracket at the back of the static jaw, which appears to have only been used on Chas. Parker and Howard Iron Works (HIW) vises. I have not found any pictures or ads for HIW units that don't have their name in the side however, which puts the favor back into a Chas. Parker unit. Two other clues are available on this vise, the first being the handle retainer at the front of the dynamic jaw - most Parker units have this retainer, with the name "Parker" cast in it and a retaining screw to hold it in place that enters through the front of the vise. This unit has the retainer as well, however the screw to hold it in place enters from the top of the dynamic jaw, rather than the front (HIW also had this top screw on some early vises, by the way). Secondly, this is one of the few early vises I've seen that has replaceable jaw inserts, and based on the ad the No. 40 also had replaceable jaws.
So is this a 120+ year old Chas. Parker No. 40? I cannot say for certain, but I'd like it to be. The vise is currently spending a couple weeks in the electrolysis tank, and perhaps when it comes out more secrets will be revealed. Considering I paid less than $50 to purchase and ship the thing here, I remain hopeful. Oh, and it was found in a barn in central Connecticut, which also helps with the pedigree in my opinion - Chas. Parker made vises in Meriden, CT. after all, as opposed to HIW, which was in Buffalo, NY.
The Athol Machine Co. Vises
While I was enjoying the adventure of trying to determine exactly what the story was with that possible Chas. Parker No. 40, I notice my intrepid mail carrier pull into the driveway and struggle a bit with a rather heavy looking package a couple of days after I'd unwrapped the mystery vise. This was quite a surprise, since I hadn't purchased any additional vises or hand planes, and wasn't expecting any more Christmas presents from any family or friends. It was address to me, so I opened the box and found another rather hefty chunk of rusted cast iron. A few days later, and the same thing happened again! I checked my e-mail and all was made clear at last - my brother had been visiting for Thanksgiving when I had been working on the No. 1073½, and decided he also needed a new bench vise for his motorcycle garage in Manhattan. We'd talked a little about what was available at the time, and I mentioned that I thought a couple old Athol Machine Co. (AMCo) looked kind of interesting. Apparently he did too, since he'd purchased them and had them shipped to me!
Finding information for these AMCo units turned out to be even more challenging than the unidentified Parker. The Athol Machine Company was based in Athol, Massachusetts from 1868 until they were purchased by the Starrett company in 1905. Starrett still has a facility in Athol to this day, and continues to make fine machinist's tools, as well as a few models of bench and machinist's vises. The tricky part about these vises is trying to determine when they were made, of course. I've had little luck finding any reference to these models in old tool catalogs, and can't even determine when Starrett dropped the AMCo casting from the vises and started casting the Starrett name on them instead. Other early examples of Starrett bench vises still have the words Athol Machine cast in the side well after they had been bought out by Starrett, so perhaps Starrett kept the name for a while just to maintain their place in the market. For now, the best I can do is a very rough guess to say these units are likely from sometime between 1900 and 1920, just for kicks. Until I can find an ad or catalog that actually lists these models, that will have to do.
Of particular interest on these two vises is the mounting method. Rather than some manner of cast flange that's bolted to a bench, or through-bench swivel nut typical of late 19th and early 20th century units, these vises both have a cast groove in the base of the static jaw. They also have the typical layout of static and dynamic jaw reversed, so that using the lead screw moves the dynamic jaw back and forth on a rail that's part of the front / static jaw. The cast groove in the bottom of the static jaw is made to hold the head of one or more bolts, which may then be placed through the bench (or perhaps a machine's work table?), which allows the vise to be held in position by tightening a nut from below. I find it interesting that the very strong looking hold down casting groove allows a captive-bolt mounting system, yet the lead screw and dynamic jaw are completely exposed to any filings or shavings that might be produced when using the vise. How ever these were originally supposed to be used will remain a mystery until more original documentation can be found. For now, they'll get a dunk in the electrolysis vat, some fresh paint, then shipped off to Manhattan to hold old BMW motorcycle parts as needed..
---
The Benchtop Spray Booth
My brother's been tinkering quite a bit with old BMW motorcycles, and we were chatting about spray finishing some parts on one of his recent projects. Back in the day, I built electric cars, and still have all of my shop equipment rusting away in a storage locker waiting for me to build a new garage. One of the items is an unwieldy old benchtop spray booth, which I doubt I'll install when I get around to making a new workspace (I had a 2,500 square foot automobile fabrication shop, and I'm planning to build a garage that's only around 800 square feet, so some of that stuff's just gonna have to go). Anyway, I suggested that he might find the thing useful, so I'm posting additional details about the beast here so he can have a looksee.
Big Metal Box Details:
I'd guess the booth itself is either 12 or 14 gauge galvanized sheet metal, so it's pretty solid. I remember one problem I had with it is that it's not very tall. Dimensions are: 18" high, from bench to bottom of front lip; 35½" from the bench to the top of the outlet duct; 53½" wide; 26" deep; and there's a 1" wide lip that runs around the sides and back with screw holes in it to fasten the thing to the bench if you want. If you're sitting on a stool in front of the thing the height is okay, but if you're standing it's too low for a proper sight line to the work piece. When I had it up and running, I made a 16" tall wood frame of 1" thick MDF that I screwed the 1" metal lip to in order to raise the thing up to a more reasonable level. I intended to get a tin-knocker to cut me a strip of galvy to line the MDF with, but never go around to it. There is no filter inside the dome of the unit - as I recall I just hung a furnace filter in there with a bit of wire and foam around the edges. I'm sure you could get a tin-knocker to make some sort of "Z" profile and rivet in a proper filter frame if you take the thing.
Motor Details:
The blower is powered by a G.E. three-phase 208-220/440V induction motor. I seriously doubt you'll have 440V power available at the shop, but that's not too big a deal (it uses half the amperage at 440v, which is nice - lower $$ to run and smaller wires to transmit). The troublesome bit is whether or not you have three-phase power available. It may not be in the shop, which doesn't really matter right now - the thing that matters is whether or not ConEd even has the stuff available at your location (power is usually transmitted as three-phase). If it's a light commercial area then it should be on the pole, but if it's just residential, then it's probably not around (I don't have it available here, for instance - only 2 wires and a ground cable on the pole, so this motor doesn't do me any good). If you have it available, you should try to get it into the shop. Three-phase motors are smaller than single-phase motors of the same horsepower, and don't require a capacitor starter to get spinning. If there's not an air compressor in the shop yet and three-phase is available, you'll definitely want to go with a three-phase motor on compressor as well.
Duct Details:
The outlet on the top of the unit is just under 8" diameter, so it fits inside a standard 8" piece of duct. I've got a few chunks of heavy straight duct and elbows someplace in storage to go with it. The blower outlet is 10" diameter, and I might have some of that stuff as well.
↑